Dancing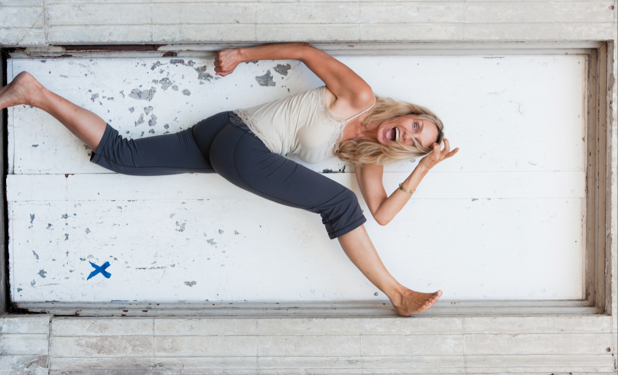 Marianne Hettinger loves ballroom dancing
Marianne is a versatile professional dancer, having studied ballet, jazz, ballroom, Modern Dance, tap and flamenco. She is a US and CANADIAN CHAMPION IN BALLROOM DANCING (Theatre Arts-, Adagio and Latin Rhythms) and has performed in numerous TV commercials and films like "STEPFORD WIVES". On Broadway she's performed as a soloist in "LATIN RHYTHMS" and as a guest artist with many symphony orchestras across the United States and Canada.
Ms. Hettinger performed with ANTONIO BANDERAS on the "Late Show with David Letterman" and subsequently was invited back on the show several times by David Letterman himself.
Marianne has been teaching dance since 1998 and is also a certified Zumba and Urban Rebounding (trampoline) instructor. Watch Marianne teach a Salsa class on TV's WB11.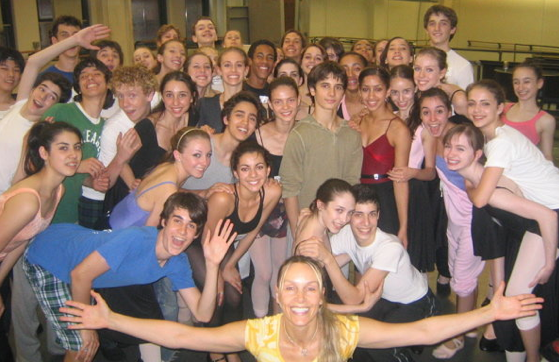 Photo: Ms. Hettinger with her professional ballet students at ABT (American Ballet Theatre)- spring semester.
top
Video clips
top
Dance Bio
Marianne Hettinger left her native Germany as a teenager to pursue her dream of dancing and acting following in Gene Kelly's footsteps…
She started in her home town of Augsburg with gymnastics at age 3 and ballet classes at age 7, yet was turned down by the John Cranko Ballet School, because she was 'too tall'. Not one to give up easily, she later studied in New York on a full scholarship at Steps on Broadway, The Alvin Ailey School, Perry Dance, and the Merce Cunningham Dance Studio. While still studying she was pulled out of a ballet class by a TV producer and hired as a principal dancer for 9 national commercial spots by the Kroger company, in which she portrayed scissors snipping prices.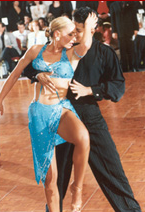 In 1996 Marianne Hettinger discovered a new passion: ballroom dancing and within a few months, after pairing up with Lucas Jaime, became a professional ballroom dance champion.
As a competitor she has won many dance competitions in professional American Rhythm (Latin), Theatre Arts/ Cabaret and Showdance: New York Empire Dance Competition, La Classique Du Quebec (Canada), Toronto (Canada), on 'Sabado Gigante' (Univision TV, Miami), the Disco Classics, Florida and Hustle USA. She was a finalist at the Ohio Star Ball, The Emerald Ball (Los Angeles), and at the United States Dance Sport Championships (USDC)- all in her first year and a half of competing.
Ms. Hettinger performs with many Symphony Orchestras, under the direction of the fantastic Jack Everly throughout the US and Canada as a featured guest artist in the 'Pops'-concerts: the National Symphony Orchestra/ Washington/ Kennedy Center, the Ottowa Symphony, Toronto Symphony, Edmonton Symphony, Indianapolis Symphony, Baltimore Symphony. Partners have been Greg Mitchell (veteran performer of 13 Broadway shows, Feld Ballet and the National Ballet of Canada), Christian Perry (of TV's 'Ballroom Bootcamp'), and current partner Ramon DelBarrio (of 'Westbank', he won the 2007 Oscar in the Live Action Short category).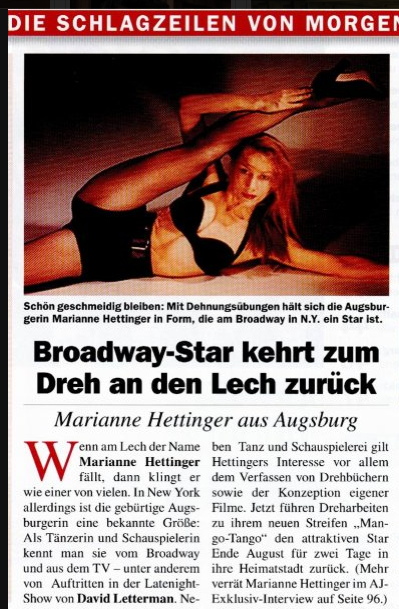 Marianne Hettinger performs solos and duets for BROADWAY BENEFIT SHOWS on a regular basis: BROADWAY'S LATIN RHYTHMS with partner and choreographer Richard Amaro, starring Chita Rivera, Antonio Banderas and many others, for the Actor's Fund and BROADWAY CARES.
Off-BROADWAY she has played 13 different roles in the hit show 'LES INCROYABLES', danced the Waltz in the FEATURE 'STEPFORD WIVES' and has danced in numerous commercials.
Marianne Hettinger started teaching ballet, Tap and Jazz at age 17. She has been a professional ballroom, Argentine tango coach and sometimes choreographer since 1997. She has coached celebrities ANTONIO BANDERAS, Tony award winner IDINA MENZEL, 2-time Emmy award winner Michael E. Knight, Olympic figure skater and World medalist Norbert Schramm and Olympic boxing coach Michael Kozlowski.
She teaches daily group classes at the NEW YORK HEALTH & RAQUET CLUB and CHAMPIONS DANCE STUDIO. She has taught ballroom lessons on live television (WB11, GOOD DAY NEW YORK), and has been a guest teacher at the DANCE THEATRE OF HARLEM, STEPS on Broadway and DANCE NEW YORK.
As a choreographer Marianne has worked for film, stage and television commercials, her own one person show 'Heaven & Earth', Broadway benefits, helped to stage an original modern tango piece starring DESMOND RICHARDSON and ELIZABETH KOEPPEN as well as a Salsa number for PARSONS DANCE , and has choreographed a salsa routine for the former daytime soap AS THE WORLD TURNS (CBS).
top
Dance Reel
(This video reel of Marianne Hettinger might not work in all countries)
top